Ex-NFL Player Jake Arians Weighs In On Dad Taking Over The Buccaneers
January 13th, 2019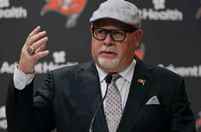 Yes, new head coach Bucco Bruce Arians has an outspoken son who played in the NFL.
Is Jake Arians biased toward the new Tampa Bay commander? No, and yes.
On his fantasy-football focused podcast, the younger Arians said last week he was trying his best to give listeners an unbiased assessment of the Bucs' new hire. He then went on a long explanation of how his dad's coaching "staff is phenomenal." And he added that defensive coordinator Todd Bowles is highly regarded around the NFL and could have a head coaching gig again at any time, and offensive coordinator Bryon Leftwich and assistant head coach Harold Goodwin are head-coach material.
But more interesting was the chatter about the Bucs roster and Bruce Arians' mindset.
"The defense with Todd Bowles, I don't care if you've got 11 free agents out there, you're going to be solid," Jake Arians said. "Jason [Pierre-Paul] has a lot left. Vita Vea is going to be a star. You need some corners. [Kwon Alexander,] Lavonte David, those linebackers can fly in Todd's defense and be phenomenal.

"I don't know how you win the press conference better. I don't know how you build a more solid staff to move forward with an organization that's kind of been in flux. And yeah, it might be for three years; who knows how long B.A. is going to do it. But the fire has been re-lit. Being away from it for a year, being on CBS and really missing it. I don't think he realized how much until maybe within the last month. But I haven't heard him this excited since they went like 13-3 in Arizona. My mom is over the moon for people that are worried about that. His health is great. (laughs) Had to get a physical to get the job. I don't know how you do a better job of eight [head coach] jobs open than this. … Turn it around now and win. They can win with the pieces they have. They've got some cap space. They can make some moves. That's my analysis of it trying to be not biased. I'm over the moon for my dad that he's this excited and has another chance. … I can't wait to see what he's going to do his second time around."
Joe thought the "it might be for three years" line was interesting, as well as how fired up Mrs. Arians is to be a Buccaneer.
After that chatter, Jake Arians, a former Bills kicker, got fired up talking about how some analysts think Bruce Arians' success with Ben Roethlisberger, Peyton Manning and Andrew Luck was more about those players than his father.
Young Arians, 39, said any doubters should go back to see how his developed quarterback Tim Couch before he broke his leg late in the 2002 season. That Browns team marched on to the playoffs — their last trip in team history — with QB Kelly Holcumb putting up 429 yards on Wild Card weekend against at top-10 Steelers defense in Pittsburgh. But the Browns lost that game 36-33 after their defense coughed up a fourth-quarter lead.
Jake Arians also expressed a lot of confidence in America's Quarterback, Jameis Winston, and how he'd take his dad's coaching quickly. "People don't realize that Jameis was a 4.2 student in high school," he added.