Todd Monken To The Browns
January 13th, 2019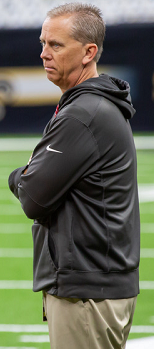 After a flurry of interviews for NFL head coaching gigs and offensive coordinator roles, it seems recently-departed Bucs playcaller Todd Monken ironically will be landing as the OC for a Bruce Arians disciple.
NFL Network is reporting tonight that Monken will be the next offensive coordinator for the Cleveland Browns under new head coach Freddie Kitchens, who coached quarterbacks and running backs for Arians in Arizona.
Monken, 52, was in the mix for the offensive coordinator role with the Packers, Lions and Jaguars. And he was interviewed by the Jets, Packers and Bengals for the head coaching jobs.
It's doubtful that Monken will call plays in Cleveland, as Kitchens did that when he took over as Browns offensive coordinator in the second half of last season. Joe would suspect Monken might need a full season to get that comfortable with Kitchens' offense, and even then the head coach might keep the role.
Joe wishes Monken well. The Browns look like a hell of a place to land, which is a big reason Arians himself wanted to go there before the Bucs came calling.