"I Was Probably The First One To Come In And Jump On Larry's Ass"
January 13th, 2019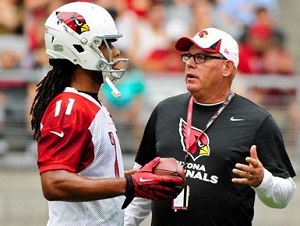 It's a safe bet that Bucs players have no idea what's going to hit them when April 1 rolls around and new head coach Bucco Bruce Arians greets them to start offseason conditioning and meetings at One Buc Palace.
Joe continues to burn the candles at One Buc Palace headquarters researching all things Arians, including uncovering some gems in an old feature by the York Daily Record in Pennsylvania. Arians spent most of his youth in the area.
It was written when Arians was with the Cardinals.
Arians has few team rules and goes simply by "B.A." Each player receives his wrath and love in equal doses, rookies to stars.

"I was probably the first one to come in and jump on Larry's ass," Arians said of Fitzgerald. "He was stunned, like, 'Whoa.'

"He's a perfectionist. He didn't like being called out in front of people. He'd come to me after (practice), 'Hey, Coach …' and I'd say, 'Just do it right.' Everybody's the same out there. If it's not perfect it needs to be coached."
Joe loved that last sentence. That kind of mentality hasn't been at One Buc Palace since the Greg Schiano era.
Yes, Arians is known on all corners of the earth for ripping players' apart while teaching, only to let it go quickly and embrace them after practice. It's also roundly accepted that his players are cool with his style and seem to understand he is only trying to make them better.
"He's got a way about him," Cardinals GM Steve Keim said. "He's a white guy from York who's 62 years old and relates to black southern kids. It's bizarre how he connects to them. … One second he can ride you into the ground, 'You MF-ing this. What the eff was that? … That's terrible!' And the guy literally wants to go in a shell. But then he has a way, if you're doing something right, of putting his arm around you and saying, 'That's a good job, son.'

"It's just a special feel, it's an instinct."
If anything, this will be a very fun season.