Bruce Arians Talks About How He'd Handle A Star Player Who Wants To Be Traded
January 12th, 2019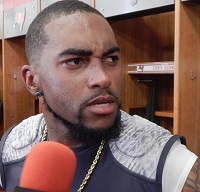 "Trust, loyalty and respect." New head coach Bucco Bruce Arians says those principles are the foundation of his renowned football program.
They're also three words that do not describe DeSean Jackson's two seasons in Tampa.
The me-first Buccaneer yearned to be traded this season and remains under contract (non-guaranteed). Arians told Joe and other media Thursday that everyone on the roster gets a clean slate. But there is talk, and then there is reality.
Jackson remaining on the roster would make Joe ill, along with many other Bucs fans.
Is he really needed? Joe will have more on that tomorrow.
NFL Network reported Arians wants to open his arms to Jackson and talk to him about staying in pewter and red.
After punching a wall, Joe started digging and uncovered a 2018 interview of Arians point-blank being asked a hypothetical question of how he would handle a player who asked to be traded and whether he thought a scenario like that would be a big distraction to his team.
(At the time of the interview, Arians was retired and there were reports All-Pro cornerback Patrick Peterson wanted out of Arizona.)
"Yeah, it would be [a big distraction]," Arians said. "I mean, to me, 'Why?' You know, why do you want to be traded? And if you don't want to play here anymore, let's see what we can do as far as what are we going to get for you. Because I'm not going to give you away. And then if there are things that you need as a player, I'll try to give you those things as a player, but, you're under contract."
So there you have it. The new Bucs chief and spiritual leader confirms that a player asking to be traded, especially a high-profile player, is a major distraction.
Yet Jackson was retained and the Bucs' season collapsed.
Joe sure hopes general manager Jason Licht puts his foot down and explains to Arians that Jackson isn't a Buccaneer man and that the team shouldn't make the same mistake over and over again.
Joe is concerned that Jackson will do whatever he can to convince Arians to keep him so he'll get that $10 million he is due in 2019.
---
DERRICK BROOKS & IRA KAUFMAN talk about the BRUCE ARIANS hire on TAMPA TWO, presented by Caldeco Air Conditioning & Heating.