Breakfast With Bruce Arians' Ex-Roommate: Tony Dungy
January 23rd, 2019
BY IRA KAUFMAN
There's a new sheriff at One Buc Place, wielding a sharp stick and an even sharper tongue.
Take it from the man who roomed with Bruce Arians 30 years ago in Kansas City.
Arians and Tony Dungy were assistant coaches on Marty Schottenheimer's staff for three seasons, beginning in 1989. And yes, they could have starred together in a remake of The Odd Couple.
While 33-year-old Tony Dungy studied the Bible in his bedroom during their brief stint as roommates, 36-year-old Bruce Arians was enjoying a cocktail and telling a dirty joke over the phone.
While Dungy was calmly explaining pass cover techniques to his very talented group of defensive backs, Arians was informing Christian Okoye and fellow back Barry Word that mistakes wouldn't be tolerated, using language that would make a rap artist blush.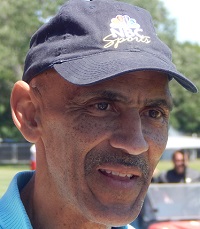 They have stayed in touch through the years, so when Arians was introduced as Tampa Bay's new head coach two weeks ago, Dungy attended the press conference.
"I wanted to see Bruce and welcome him to Tampa," Dungy said during a recent breakfast. "Bruce is loyal. This staff has guys that coached with him at Temple, He's got three guys that played for him at Temple 40 years ago. He speaks the truth to them and they're going to speak the truth back."
And yes, in case you're wondering, JoeBucsFan picked up the breakfast check.
Until their families arrived in Kansas City, these two disparate personalities shared an apartment in Independence, just east of Kansas City.
"Funny guy, classic," Dungy said of Arians.."He's as down to earth as you could be. He's very smart, very good at motivating people. We had a good team and Bruce wasn't the offensive coordinator, but he had ideas. We could hang out and have fun. He could accept me for who I am."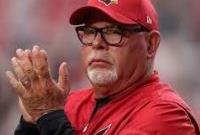 During the course of our 45-minute chat, Dungy used the word "straightforward" four times in describing Arians.
"You have to be yourself and players respond to that," Dungy said. "His guys loved him. Arizona is obviously a tough place to work, but Bruce got the offense going and he did a good job with Carson Palmer. He knows how to move the ball."
He also knows how to move the needle. In his regular-season debut as a CBS analyst last September, Arians described Pittsburgh tight end Jesse James as being "wide-ass open."
Oops.
"Bruce is going to get the most out of his guys," said Dungy. "It takes you a little while to get accustomed to him — he could blister some people. Remember that his background was Bear Bryant … that's his coaching hero in life. Mine was Chuck Noll."
Dungy believes Todd Bowles will be a key hire as defensive coordinator.
"Todd's an aggressive guy and he'll be different," Dungy said. "He's going to challenge them and the Bucs will do more things on defense. He played for Richie Petitbon, so expect pressure and a very aggressive approach."
I asked Dungy if Bucs fans should anticipate a switch to a 3-man front.

"Looking at the talent, especially up front, I don't think they will," he said.
At the age of 66, Arians doesn't figure to be a long-term answer for the Bucs. That doesn't mean he won't make a major impact, starting with his relationship with Jameis Winston.
"He'll create a winning culture and a winning attitude," Dungy said. "He'll hold people accountable and he'll get Jameis going. I'm not sure of the game plan in Tampa. Will Bruce be here only two years and then Todd Bowles is going to be the head coach?

"One thing I do know is he's not going to accept bad play. In KC, you couldn't make mistakes, whether you were Christian Okoye or the 10th guy on the depth chart. I would tell my guys that if we want to win, we can't make mistakes. That's how you lose in the National Football League.

"Over in his room, Bruce would say, 'If you want to be on the field, you can't make mistakes because you're a reflection of me and I'm not putting a mistake out there. Don't think you're getting in the game if you don't know what you're doing."
Arians tells his players that his door is always open, but you might not like what I'm going to say. Buc fans already love what he has to say — and how he says it.
Ira Kaufman began covering the NFL in 1979, as a New York Giants beat writer. He arrived on the Buccaneers beat in 1985. Eventually, the corporate leash was removed from his neck when he joined JoeBucsFan.com in July 2016. The award-winning Ira Kaufman Podcast fires twice per week, and Ira's columns appear thrice weekly, except when Ira is on special assignment. Tampa Bay's only Hall of Fame voter also is a popular guest on various national radio and local TV programming.