Behind The Nonsense
January 21st, 2019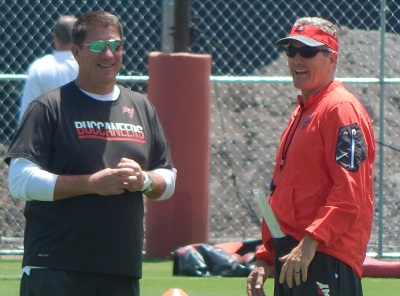 Thomas Bassinger performed a deep dive into the great Buccaneers con job delivered by Dirk Koetter in late 2017 and through the first half of 2018.
Joe railed about it over and over at the time, and the Tampa Bay Times numberscruncher/reporter invested the time recently to expose it further.
After the Bucs' 5-11 stinkfest of 2017 (not this season's) Koetter said repeatedly that the Bucs played so many one-score games and lost so many of those compared to the Falcons and other teams, that those results should let everyone know Tampa Bay was close to turning around its fortunes.
It was flawed logic then and it always will be. Bad teams lose a high percentage of close games because they have issues, not because they're on the cusp of greatness. At the time, Joe noted the 2017 Bears were 2-6 in one-score games and fired their head coach, despite a No. 10-ranked defense and signs of life on offense. The Bucs were 3-7 in close games and were somehow gaining confidence from it.
This season? Tampa Bay was 4-7 in one-score games. (Watch out for the Giants next season; they were 4-8!)
Bassinger further illustrated the absurdity of it all.
Guess which team has had the best win percentage in one-score games over the past three seasons.

The Patriots?

Nope. They rank third.

The Steelers?

Nope. They rank fourth.

The Eagles?

How about the Dolphins?

Ding!

That's right. Miami — Miami! — has won 20 of their past 26.

And Dolphins coach Adam Gase? He was fired the day after the end of the regular season.
Obviously, good team usually win a good percentage of close games or hammer their opponents consistently. But losing close games doesn't make you close to good. It never will.
New head coach Bucco Bruce Arians' won two-thirds of his one-score games in Arizona, Bassinger noted. That's meaningless but comforting nonetheless.