More Selling Of The One-Score Game Nonsense
June 15th, 2018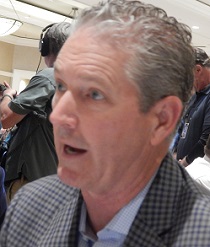 Please, Dirk Koetter, enough already.
Stop telling the world that the Bucs somehow, because of their 3-7 record in one-score games last season, are on the cusp of something special. Not only is that record in one-score games irrelevant, it's not predictive of a darn thing.
Sure, the Jaguars and Chargers had brutal records in one-score games in 2016, and they thrived in 2017. But they also had brand new head coaches last year. So there's that.
Koetter has been singing the one-score game song all offseason and ended with a rousing chorus of it yesterday as minicamp wrapped up. And no, he wasn't asked about one-score games.
"I think what we learned is the new additions are going to help us a lot, not only the free agents but the draft picks," Koetter said. "Jason did an awesome job with the guys he added to our team and I think the guys that are returning are really serious about putting their best foot forward. When you're 3-7 in one-score games, that really puts everything into perspective as to 3-7 and you're sitting at home, 5-11 versus Atlanta [who was] 6-4 in one score games and gets in as a wild card and gets a couple of wins. So, everybody likes where they're at this time of year. The good news is we're pretty healthy and I'll be anxious to get back in five weeks and start it up again."
This whole one-score game record is a real pet peeve of Joe's.
The Bucs can be great this season if the many talent upgrades in the trenches materialize quickly. They Bucs can be great if America's Quarterback, Jameis Winston, plays pitch-and-catch in the red zone. The Bucs can be great because they won't be dragged down by Doug Martin and Chris Baker, bad and non-committed football players that Koetter chose to play, among others.
The Bucs also can be great if the mentality is right, such as not choosing to suck in the red zone (Todd Monken's description) and the offensive line gets after it consistently in September rather than November.
The Bucs lost four straight one-score games in December last season. Hey, the Bears were 2-6 in one-score games last season, too, and they finished 5-11 with the NFL's 10th-ranked defense. Of course, that's absolutely meaningless right now — just like the Bucs' mark.
Joe can only conclude Koetter wants players hearing this one-score game song, thinking somehow it will motivate them. Weak mindset.