Anger, Angst, Respect And A Deal In Tampa; This Morning's Bruce Arians Chatter On Arizona Sports Radio
January 7th, 2019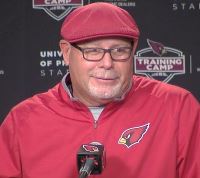 It's been a quality education for Joe on Arizona Sports Radio this morning and over the weekend.
(Before Joe gets rolling, before the Buccaneers played the Cardinals early in the 2016 season, Joe was in Phoenix before the game listening to local sports radio. It was absolutely stunning how much dislike there was for Dirk Koetter flowing from various hosts. The media clearly had significant issues with Koetter from his days at Arizona State.)
Bruce Arians was getting a lot of love this morning, but there are many uneasy feelings surrounding his possible return to the NFL in Tampa.
A little summary:
Yeah, there was chatter about how Arians might have been nudged out the door by Cardinals officials because his health had become too inconsistent, along with his team. And there was talk about how Arians might have gotten too stubborn in his approach and had lost his edge and influence over all phases of the club.
But overall, those factors were attributed to health. It was understood and forgiven and Arians was celebrated as he left town for a life of grandkids and family and the broadcast booth.
For some, though, those loving Arians feelings changed late last year when he said he was interested in the open Browns head coach job. That prompted many Phoenix locals to get excited that Arians would return to the Cardinals and replace recently-fired head coach Steve Wilks.
But when the Bucs emerged as a likely landing spot for Arians, that left a lot of fans and analysts in disbelief. And now there's some anger at the Cardinals for letting Arians go, along with new pressure on the Cardinals to make their next hire as good as Arians if he's really taking over the Bucs.
Yes, there will be a lot of jealously for the Bucs if Arians comes to Tampa with defensive coordinator Todd Bowles in tow.
Speaking of Arians and the Bucs, see Joe's Tweet below. Arizona institution Dan Bickley, a longtime newspaper columnist and radio host there, says he was told over the weekend that Arians to the Bucs is as good as done.
Arizona institution Dan Bickley, a 20-year columnist for The Arizona Republic, just hopped on 98.7 FM there and said he's been told Arians to the Bucs is essentially a done deal.

— JoeBucsFan (@JoeBucsFan) January 7, 2019