Vinny Curry: Mark Duffner Energy Is "Crazy," Change From Mike Smith Is Real
December 3rd, 2018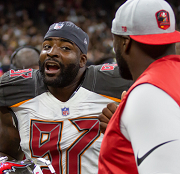 The Bucs defense was horrible for much of this season and now it's actually pretty good.
Joe asked veteran defensive end Vinny Curry to give fans an explanation after yesterday's throttling of the Panthers.
Joe simply requested Curry give his take on why he thinks this defense went from terrible to solid.
Curry laughed at Joe's phrasing and then went right to the top, as well as to his position group.
"Nearly everybody's healthy now," Curry said, referring to his defensive line mates. "Coach [Brentson] Buckner is doing a hell of a job. You know, Paul Spicer, [assistant defensive line coach], you gotta give those guys credit. You feel me? It starts with them. Coach Duffner, his energy is crazy. Energy is contagious when you're playing defense. Like I'm saying, Spice and Buckner, man. They've been drilling us, drilling us, drilling us. And then they're letting us be us. You feel me? Early in the season guys are just trying to learn stuff. That takes time. Now we got it and it's go-time."
Curry, who had a sack yesterday, went on to say he believes Duffner and Buckner feed off each other's energy and it's just a different vibe from when Mike Smith was in charge.
As Joe wrote yesterday, take away the Pick-6 thrown by Ryan Fitzpatrick against the Giants, and the Bucs are allowing less than 19 points per game in their last four outings.