"Very Elusive"
December 1st, 2018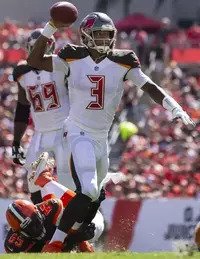 Something really jumps off the screen this season when you watch the play of Jameis Winston.
It's easy to appreciate it.
Joe sure does. And former Bucs tight end John Gilmore raved about it this week on WDAE-AM 620. "Very elusive," Gilmore said of Jameis' work in the pocket and scrambling.
Joe would challenge any hater of America's Quarterback to pull up the film and study it. It's quite impressive.
Of course, making good decisions after eluding defenders is everything. And that's a big part of what got Jameis benched. But Jameis was great at that against San Francisco and Dirk Koetter said on the Buccaneers Radio Network last night that it was the best part of Jameis' turnover-free success last Sunday.
"Especially in scramble situations, when to throw and when to run," he said.
Among quarterbacks with 30 or more rushes this season, Jameis ranks 10th in yards per carry at 4.8, the highest average of his career.