Weak Talk By Dirk Koetter
December 1st, 2018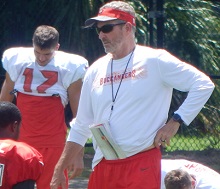 Joe didn't like chatter flowing from the mouth of Dirk Koetter yesterday.
Joe's unsure whether it was a weak choice of words or a window into a football team that struggles with readiness.
It all flowed through the Buccaneers Radio Network.
Koetter was asked by a fan about whether players in the locker room feel that they're still alive in a playoff chase at 4-7.
Koetter didn't seem to know, and then he appeared to reveal the Bucs have trouble getting up for opponents consistently.
"Well, to be honest with you we just really don't talk about it like that," Koetter said. "We talk about it as just trying to get better week to week and, you know, this week we start off the first of eventually three home games against our division opponents. It was kind of quirky with the schedule this year that we play all of our division home games at the end [of the season] and we play the road games on the front end. So, you know, this week it's easy to get up for Carolina, because when we went and played at Carolina, they were playing at an extremely high level and we did not play our best that day and they got after us pretty good. And, you know, since it's a division game, a team you play twice a year, I think that's what the guys are most fired up about this week."
First, in past weeks, Koetter has talked about how he shares with the players where they are in league standings and with various stats, so Joe doesn't get why Koetter didn't offer a resounding "Yes!" when asked about whether his players understand that they have a shot at the playoffs (if they run the table and reach 9-7).
And why the heck is Koetter even saying, "This week it's easy to get up for Carolina …"
Shouldn't it be easy to get up for every opponent every darn week? This the freakin' NFL and you're a franchise that hasn't been to the playoffs since the 2007 season.
That's awfully scary phrasing by Koetter right there.
Joe's temporarily waving the white flag on trying to figure out the mentality of this football team. The evidence is its production. It's been wildly inconsistent since the start of the 2015 season. (In 2014, the Bucs were very consistent)
Like everything else, that starts and ends with the head coach.