TV Map For Dixie Chicks-Crows
December 29th, 2018
It appears a lot of Bucs fans across the nation won't get the Bucs on free TV as the 2018 season comes to a close.
Unlike last week when over half the nation saw the Bucs on their local FOX affiliate, tomorrow's season finale when the Bucs host the Dixie Chicks will only be shown in a few states. Pretty much unless you live Alabama, Florida or Georgia, you Bucs fans will need NFL Sunday Ticket or a local watering hole to watch the game.
Fossil Dick Stockton and Mark Schlereth will call the game.
Of course, Joe always recommends taking in the Bucs game and the full slate of NFL action at Abe's Place in Clearwater. The menu rocks.
As always, the map is courtesy of 506sports.com.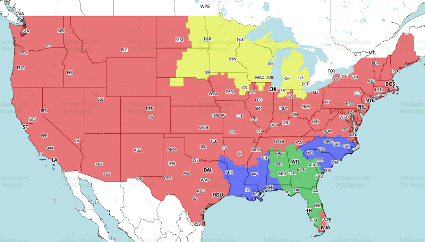 Green: Atlanta @ Tampa Bay.
Red: Dallas @ NY Giants.
Blue: Carolina @ New Orleans.
Yellow: Detroit @ Green Bay.