Time's Up
December 30th, 2018
BY IRA KAUFMAN
The Dirk Koetter era began with a few tears. It ended with a few jeers.
In his introductory news conference as the 11th head coach In franchise history, Koetter became emotional on Jan. 15, 2016. Who could blame him for tearing up as the son of a football coach reached the top of his profession?
But after three years of calling the shots, Koetter was told his services were no longer needed at One Buc Place. Listen closely enough and you can hear thousands of disgruntled Buc fans applauding ownership's decision to move on.
In the end, Koetter had the respect of his players but lacked confidence from the Glazers, who watched on in shock as a 2-0 start to this season ended in a flurry of turnovers, penalties and setbacks.
Koetter simply didn't win enough. You can talk about injuries, bad calls or bad karma, but Koetter said it himself many times during his 3-year reign: the NFL is a production-based business.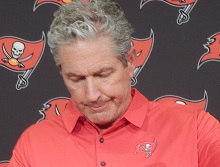 When the Glazers entrusted Jason Licht with the authority to hire Lovie Smith's replacement, Koetter was the obvious choice. With rookie quarterback Jameis Winston taking every snap, the Bucs set a franchise record for total yards in 2015, with Koetter diagramming and calling the plays.
"When I started this search for a new head coach, the focus was on finding someone that could be a strong leader as well as a consummate teacher, and Dirk is both," Licht said on that fateful day. "He brings the passion and drive that will re-energize our organization and help us establish the winning culture that will help us become the championship-caliber team that our fans deserve."
But it didn't happen.
Mastered Losing
With the exception of that 5-game winning streak in 2016, Koetter's Bucs kept finding way to lose. Travel proved particularly challenging as Tampa Bay dropped 16 of its final 18 road games under Koetter.
"Dirk has a proven track record," said Bucs co-chairman Joel Glazer in introducing Koetter at that 2016 news conference. "That's why we collectively believe that Dirk is the right man to move this team forward and make this community proud."
When the Koetter era started off 8-5, the Tampa Bay community was all in on the offensive guru from Pocatello. The Bucs were in charge of their own playoff destiny, but the wheels suddenly came off and they were never reattached.
Koetter praised the Glazers for their courage in bringing him back after last year's 5-11 fiasco. They gave him a third year to turn things around, which was one more year than they afforded predecessors Lovie Smith and Greg Schiano.
With a difficult early schedule and Winston serving a suspension, many Buc fans braced for an 0-3 start. But Ryan Fitzpatrick had other ideas, pulling off what is still the shocker of the NFL season in Week 1, beating Drew Brees in a shootout.
A well-deserved win against the Eagles stirred optimism before the storm hit. A 1-7 stretch doomed this football team to its 11th consecutive season without a playoff appearance.
Through it all, Koetter tried to remain resolute.
No Hall Of Shame
He stayed on message, rarely singled out a player for poor play and kept grinding. The only time that steely gaze flinched came when he dismissed Mike Smith as defensive coordinator.
That was a tough one for a loyal head coach who once served on Smith's staff in Atlanta. A nudge likely came from above his pay grade, but Koetter did what had to be done, albeit reluctantly.
If Koetter wants an NFL job running an offense,, he'll likely have his choice of a few destinations. But it won't be in Tampa, where he ceded play-calling duties to Todd Monken in 2018 and saw the Bucs post one of the league's most potent passing attacks.
Koetter won't go down as one of the worst head coaches in Buccaneer lore. Those spots are held down securely by Tampa Bay's Mount Rushmore — Leeman Bennett, Ray Perkins, Schiano and Smith.
But after registering a winning record as a rookie head coach, Koetter lost his way and the Bucs lost way too many games. He failed to win the blowouts on the road or the close ones at home.
And perhaps most importantly, Winston failed to improve significantly in their four years together.
"I love being involved with the quarterback … that's my No. 1 area of expertise," Koetter said upon taking the job. "Trust me, I'll be spending plenty of time with Jameis."
Dirk Koetter was just informed: time's up.