Ravens 20, Buccaneers 12
December 16th, 2018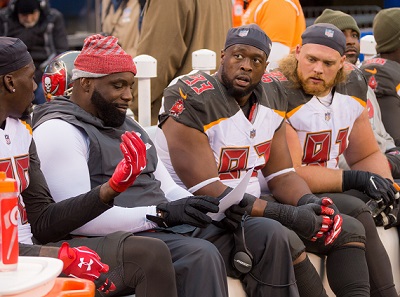 Yes, the Bucs played hard today.
Yes, they battled in lousy weather conditions against a physical playoff-caliber team.
But they lost. There are no brownie points or runner-up trophies in the NFL. The how doesn't matter when there's an "L" on the board for the 22nd time in the last 33 games.
The Bucs are a bad team, officially a 2018 loser at 5-9 with two games to play, and it's time for major changes.
Too many drops by the Bucs, too much bad tackling and too many specials teams screwups against the Ravens today. Joe liked the effort in the trenches on both sides of the ball, but nothing else was really special outside of splash plays by Mike Evans, Payton Barber and Lavonte David.
The red zone offense, last year's No. 1 problem, reverted back to its impotence. And a significant Jameis Winston turnover appeared for the first time after three games of success at protecting the football.
Overall, the Bucs knew exactly what was coming today and couldn't stop it. Rookie QB Lamar Jackson dominated and the Ravens ran for more than 240 yards.
Perhaps the only good thing to come out of this game is the Bucs' draft position improved. Atlanta improved to 5-9, now tied with the Bucs after a big win against Arizona. It also looks like Buffalo will beat down the Lions to up their record to 5-9 with their rookie Josh Allen at QB.
Stick with Joe for plenty out of today's game, including Ira Kaufman's famous 10 Takeaways column.