"Phenomenal" Gerald McCoy
December 4th, 2018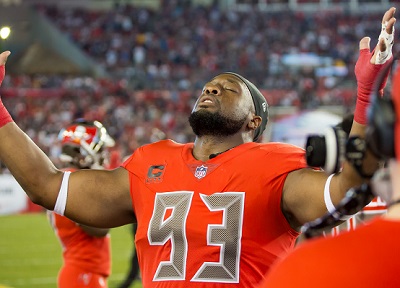 Six-time Pro Bowler Gerald McCoy got love from one of his harshest, ex-Buccaneer critics yesterday. Joe already documented that.
And another ex-Buc piled on the love.
This time it was the voice of Anthony Becht. The former Bucs tight end hopped on WDAE-AM 620 yesterday and said watching the Panthers-Bucs game left him "really impressed by the down-to-down play by the guys up front [on defense]."
Becht said he saw players having fun, which isn't always easy late in a disappointing season. And he liked the intensity, especially from everyone's favorite 30-year-old defensive tackle.
"The effort that Gerald had in the football game was phenomenal. I mean, the pressures, the pushback, everything that he did in the middle of the football field was phenomenal," Becht said. "The [statistics] weren't there obviously in big numbers but he was able to be effective."
Powerful take by Becht, who isn't one to throw around the word "phenomenal."
Could McCoy be marching to his seventh consecutive Pro Bowl. He very quietly has six sacks this season.