15 Bucs-Panthers Takes From Ian Beckles
December 3rd, 2018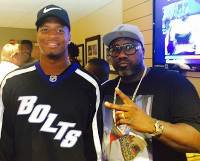 Former Bucs starting guard Ian Beckles (1990-1996) is a giant Buccaneers fan — literally and figuratively — and he's been analyzing his favorite team since his retirement from the gridiron.
The local radio and podcast star was firing away on his In The Trenches podcast at RadioInfluence.com.
Joe's got a fast summary of Beckles' main Bucs takes after yesterday's victory against the Panthers.
*Beating the Panthers justified the 49ers win.
*Bucs looked better with the younger guys fighting to win, versus DeSean Jackson looking like he's fighting not to get hurt. Stop saying Jackson should ask to go on injured reserve. Dogs don't do that.
*Nobody is laying down on Dirk Koetter.
*"Sucky refereeing" is an epidemic in the NFL including a bad flag in favor of the Bucs on the Jameis-Bobo Wilson deep ball.
*I'm starting to love [Chris] Godwin," Beckles said, and Adam Humphries is so good that he could be a star on another team and the Bucs might want to work him more into the game plan.
*Jameis Winston's "internal clock" has improved.
*Jameis was "glorious" against the Panthers outside of one throw. "Jameis is too good to get rid of. He's too good to get rid of. Alright, there's too many quarterbacks out there in the NFL that suck for us to get rid of Jameis. That's crazy. Let's build around this kid."
*"We still don't have a right guard. [Caleb] Benenoch is not good. He's not, he's not, he's not, he's not good. He's not."
*"Donovan Smith is not good. Ok. He's not." Beckles added that he watches Bucs game each week with former Bucs Pro Bowl center Tony Mayberry, who Beckles says is making "elementary, rookie-type mistakes."
*Lavonte David makes a difference. Beckles likes his instincts.
*The defensive line deserves the big-time love for yesterday's win, not the defensive backs. A long-time harsh critic of Gerald McCoy, Beckles said McCoy was top-shelf yesterday despite not showing up on the stat sheet. Beckles liked McCoy's pass rush and thought he played as well as he's seen in a while. JPP's the best football player we got, Beckles said, and D-line coach Brentson Buckner has simplified things and has guys playing more aggressively and fearlessly.
*Cam Newton reminds him Jameis Winston playing last season with a not-quite-right shoulder.
*Mike Evans does not look healthy. "Every time Mike Evans gets hit it looks like he's getting up from a 12-round boxing match." … "I applaud him for fighting through everything."
*The "nimbleness" of Jameis saved the Bucs four sacks.
*Great teams don't fail to put the game away like the Bucs did failing on offense late in the game.