"I Kind Of Feel I've Let Coach Koetter Down"
December 27th, 2018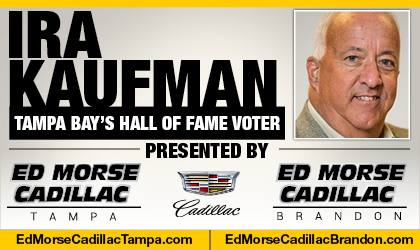 BY IRA KAUFMAN
One of Tampa Bay's young core players just made the case for retaining Dirk Koetter as head coach.
Koetter may be approaching his final game, but cornerstone Ali Marpet isn't going anywhere as the Bucs close out another frustrating season. A 2-0 start raised expectations that this franchise would compete for a playoff berth, but the Bucs need a victory Sunday against Atlanta to avoid the NFC South basement.
Marpet played well in his first season at left guard, yet the offensive line underperformed as a group, despite excellent health.
Poor run blocking is a contributing factor as Koetter faces the prospect of yet another 5-11 season.
"I think Dirk Koetter is a phenomenal football coach," Marpet said. "Offensively, he puts us in a position to be successful – from planning to practice and all the things people don't see. He does a good job of allowing guys to get their bodies back and he's consistent with his messages.

"The man takes extreme ownership in everything he does. After every loss, he says the blame starts with him. You've got to respect that. He's not going to point the finger at other guys. That's what is so unfortunate about our record. That's what sucks. It's frustrating for me as a player because I kind of feel I've let Coach Koetter down."
Ryan Fitzpatrick, whose extraordinary play under center sparked that stunning 2-0 getaway, echoes Marpet's thoughts about Koetter.
"As a head coach, you look for someone who's consistent in their message, somebody the guys respect," Fitzpatrick said. "For me personally, Dirk Koetter has been very consistent in his message since I've been here and I have a ton of respect for him."
Adam Humphries, a crafty slot receiver who could choose to test free agency, also used the word "consistent" to describe Tampa Bay's third-year coach.
"He's going to let you know what's on his mind," said Humphries. "If something's bothering Coach Koetter, he'll let you know."
Marpet is still trying to understand how this franchise went from newsmaker to troublemaker in the span of two months.
"It's a year of opportunity lost," Marpet said. "I think that's fair to say. We surely had enough opportunities to be successful and the guys in this locker room did not take advantage. Sometimes the defense played well, sometimes the offense played well, but the good teams in this league play complementary football, detailed football, disciplined football … and we didn't."
Fitzpatrick, 36, said he's undecided about his NFL future but added that his body feels fresh. He is still trying to come to terms with Tampa Bay's plunge from relevance.
"That 2-0 start seems like so long ago," he said. "We just went through a bad stretch with a lot of turnovers. It didn't matter who was playing quarterback, whether it was me or Jameis, you're not going
to win when you're doing that."
After signing as a free agent from Philadelphia, Vinny Curry accomplished the full monty — traipsing from the thrill of a Super Bowl victory to NFL purgatory.
"We let it slip away," Curry said. "It's crazy."
---
It's a new TAMPA TWO with Bucs legend Derrick Brooks and JoeBucsFan.com columnist Ira Kaufman. They're not talking playoffs, unfortunately. Caldeco Air Conditioning & Heating is the proud presenter of TAMPA TWO, a joint production of The Identity Tampa Bay and JoeBucsFan.