Yahoo!: Why Koetter Should Be Fired
December 28th, 2018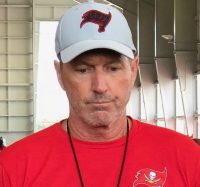 Bucs fans, some of them, have reasons they want to see a change in leadership with the Bucs.
For Joe, it's always interesting to see what folks hundreds (thousands?) of miles away see and perceive. They look at the Bucs through a totally different prism and sometimes a faraway view can be more enlightening than one close to the scene.
Paylor Terez, one of the hardest-working NFL beat guys Joe has ever met, and Charles Robinson of Yahoo! Sports believe the first name announced for being removed from their current position come Black Monday should be Bucs coach Dirk Koetter.
Both make very compelling cases, with different rationales, for why the Bucs are stuck in a bad rut with Koetter as head coach.
You can view clips of their podcast in the Twitter below (those wishing to listen to their pod in full can use the link included in the video).
With #BlackMonday around the corner, which #NFL head coach is getting the axe first: Dirk Koetter, Doug Marrone, or someone else?@TerezPaylor & @CharlesRobinson discuss 🎙

Subscribe on @ApplePodcasts 🎧: https://t.co/kbDIQrhy0B pic.twitter.com/ZLdHVGMEYJ

— Yahoo Sports NFL (@YahooSportsNFL) December 27, 2018