"Keep Layin' Bricks"
December 27th, 2018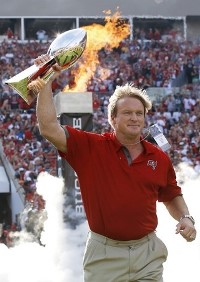 How could Joe not share this instant classic from a Tampa Bay Buccaneers legend.
There's really no other way to describe this other than it being pure entertainment, absolute candy and ice cream for football lovers who appreciate what Chucky accomplished as Buccaneers head coach.
Via the NFL Twitter video below, you can watch Chucky mic'd up on the Oakland Raiders sidelines last Sunday night.
Fantastic stuff.
No, intensity, one-liners and a love of rock music don't make you a great head coach. But they sure make for great viewing.
Enjoy!
Jon Gruden. Week 16. An #NFLMicdUp all-timer. 🔊⬆️ (via @NFLFilms) pic.twitter.com/fc040cVCSZ

— NFL (@NFL) December 27, 2018