The Jim Harbaugh Rumor
December 20th, 2018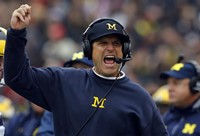 Joe is getting bombarded with questions about this, so it's time to hit the keyboard.
Former Bucs quarterback Chris Simms got Bucs fans' blood pumping early this morning when he floated a rumor that a team expected to have a coaching opening soon is prepared to throw a vault-load of cash at former Super Bowl coach and current Michigan coach Jim Harbaugh.
The team, Simms claims, is not Cleveland or Green Bay.
Allow your mind to wander.
Joe wouldn't be shocked if it is Team Glazer, who by many accounts is working behind the scenes and is in the middle of background work to find a replacement for current Bucs coach Dirk Koetter.
But Joe would be dubious on several levels if Harbaugh leaves Michigan at this time.
While it makes sense the Bucs might be that team — Team Glazer loves to make a splash with its hires and Harbaugh would be a tsunami of a splash — Joe cannot imagine Harbaugh leaving Michigan now unless he's offered something along the lines of an Indian casino.
Harbaugh is making $7 million a year at Michigan. And while his teams have been slightly underwhelming (though playing in big-time bowls like the Orange Bowl), Harbaugh's biggest road block in the Big Ten has been The Ohio State.
Well, Ohio State coach Urban Meyer just resigned. Harbaugh is raking in top-ten recruiting classes. All the stars are starting to align for Harbaugh at Michigan. So why would he bolt right when a path is being cleared to make a run at a national championship?
It's not like Harbaugh struggles to pay his light bills (see above). Besides, as we all know, a coach at a preeminent program like Michigan is the king of his castle. In the NFL, a coach always has to answer to someone.
(Yes, even Bill Bellicheat.)
Also, there is the front office factor. Harbaugh clearly would demand full and total control — how did that work out the last time Team Glazer was that naive? When Harbaugh was coaching with the 49ers, he and general manager Trent Baalke despised each other and the friction grew so intense the two were not on speaking terms.
This, in part, led to the implosion of the team and is one reason why the 49ers are a current laughing stock (though not as bad as the Bucs).
Now the obvious likely team here that could be hot in the pants for Harbaugh is Miami. Dolphins owner Stephen Ross, like Team Glazer, loves splash too. He also once reportedly made a run at Harbaugh when Harbaugh coached at Stanford.
Also, there were reports Ross is a big reason Harbaugh is at Michigan. Ross is a Michigan alumnus and a significant donor there. He's dropped nearly $400 million on the university — the business school there is named after him! — and helped bankroll the current financial package that lured Harbaugh back to Ann Arbor where he once played quarterback for Bo Schembechler.
Unless Team Glazer is willing to offer Chucky-money to Harbaugh along with complete and total control of the entire outfit at One Buc Palace, Joe cannot see Harbaugh even entertaining returning to the NFL at this time. Maybe after he wins a national title at Michigan.
But if he did — brace yourself Jameis loathers — Harbaugh is in the camp of America's Quarterback, Pro Bowler Jameis Winston.