Report: A Team That's Not Green Bay Or Cleveland Is Preparing To Make Jim Harbaugh An Offer
December 20th, 2018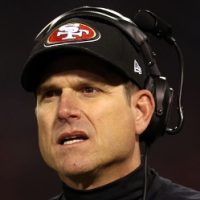 Joe wonders what Jim Harbaugh would think of the Buccaneers' offensive line?
We'll likely never know, but a new report suggests Team Glazer might be asking soon.
Joe recommends the video below from NBC Sports.
Ex-Bucs QB Chris Simms explains in detail that an NFL team with an obvious coaching vacancy upcoming, not Green Bay or Cleveland, is preparing to make a run at Harbaugh to pry him out of the University of Michigan. Co-host Mike Florio of ProFootballTalk.com also explains what he's heard on the chasing-Harbaugh front.
Of course, Harbaugh was wildly successful with the 49ers, reaching three NFC championship games and one Super Bowl in just four seasons.
Joe would love to see what Harbaugh would do with America's Quarterback, Jameis Winston. And Joe would think if Harbaugh did somehow come to Tampa, he'd also select at least one QB in the 2019 NFL Draft, which could make for an especially entertaining August.