Jameis Lauds Dirk Koetter, Says Bucs Control Their Destiny
December 13th, 2018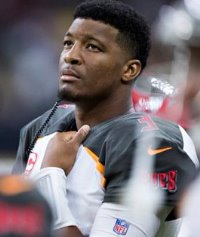 America's Quarterback, Jameis Winston, waved a flag for Dirk Koetter this afternoon at One Buc Palace.
Joe asked Jameis whether he personally (as well as the team) feels like he's fighting for their head coach, given where the team is.
"Yeah, I'm always fighting for my head coach," Jameis said. "Every week I think we all are. We got a lot of respect for that man. He holds us to high standards, and we got to hold ourselves to those standards."
Asked about the loss to the Saints devastating the Bucs' playoff chances, Jameis said, "we still control our destiny" and all players should want to be upbeat and ready to play.
"We have to win and that's all," Jameis said.
For those wondering, at 5-8 the Bucs do not control their playoff destiny. But they are alive mathematically, which ex-Bucs GM Mark Dominik says is important to Team Glazer's evaluation process.