Jensen Explains Extra Flags
December 13th, 2018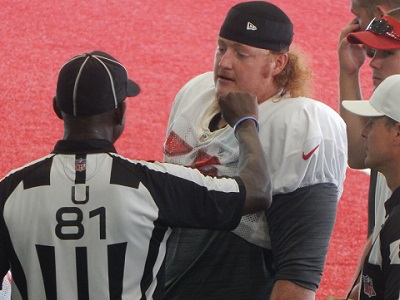 Center Ryan Jensen was talking about his penalties today and it led Joe to a plausible theory for the resulting 100-plus yards lost to the Bucs offense.
One thing Jensen said about getting flagged so often was that he's getting called this year for things that weren't getting called last year by officials.
So why is that happening?
Perhaps it's because the offensive linemen around Jensen aren't playing very physical, relative to Jensen and other O-lines. So that might be making Jensen stand out to the zebras, therefore drawing an extra flag or two.
Fans have been harsh on Jensen for those 100-plus lost yards in penalties with personal fouls in the mix. But Joe just can't wag a finger at the guy for the personal-foul flags. He's playing through the whistle at all times and it's a breath of fresh air. Plus, Joe hasn't seen those seven yards a game really kill the Bucs.
Again, maybe Jensen has one or two fewer calls if the Bucs are known for being a smash-mouth, play-through-the-whistle team across their line.