Cowboys 27, Buccaneers 20
December 23rd, 2018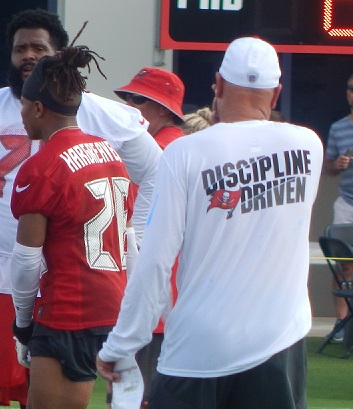 Another early dropped interception, frequent penalties at the worst times, a needless fumble in Cowboys territory, a needless fumble in Bucs territory and there goes another Tampa Bay loss — double digits now on the season for your 5-10 Buccaneers.
Good thing Dirk Koetter's motto for the season is/was "Discipline Driven."
It seems every week the Bucs show they have lots of talent but very sloppy execution. Even a casual fan can see the Bucs are poorly-coached bunch severely lacking discipline.
Today was all about squandering opportunities, including a fat stack of Cowboys penalties. And the offensive line again was terribly inconsistent, as it leads a running game that's among the very worst in the NFL.
The defense largely neutered Ezekiel Elliott and the rest of the Dallas running game, but the Cowboys did just enough in the passing game — 20-of-25 for Dak Prescott — to capitalize on the Bucs' giveaways and move the chains.
Strong games for Jacquizz Rodgers, Adam Humphries and Mike Evans, who combined for 23 catches for 224 yards on 29 targets.
The Bucs defense was ok, but that's rarely good enough on the road in December against a good team.
One more game to go. And one more week for Team Glazer to keep working behind the scenes. This team looks like one that needs to be disinfected.
Stick with Joe for plenty from the locker room and more, and Ira Kaufman's award-winning 10 Takeaways column.