Clueless Together
December 23rd, 2018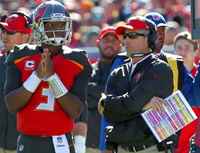 Somehow, America's Quarterback, Jameis Winston, was called three times — THREE! — for delay of game today.
That shouldn't happen to a man making his 53rd NFL start.
How does this happen? How does Dirk Koetter not call timeout in at least one of those situations?
It's shared blame and, sadly, it reminded Joe of when Josh Freeman was called for delay of game on consecutive plays in the season opener of 2013. Freeman put some blame on his headset microphone, a weak excuse.
But what's Jameis' excuse? Hall of Fame QB Troy Aikman was in disbelief on the TV broadcast. Inexcusable, Aikman said, echoing the sentiment of Bucs fans.
Joe was in disbelief in the press box (and at Abe's Place in Clearwater).
To have that kind of thing happen is an indictment of a lot of people and the mess that is this team.