Buccaneers Listed As One Of Five Locks For A Head Coaching Change
December 15th, 2018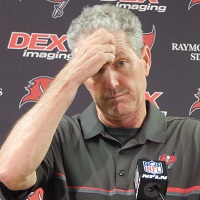 The scent of coaching change in the Tampa air wasn't washed away by all this rain.
And an NFL insider on the trail of doomed head coaches was very clear about that yesterday afternoon on national radio.
Former Redskins beat writer and NFL Network insider Jason La Canfora, who is now at CBS Sports, wrote a very interesting piece about NFL head coaching candidates this week. And he followed that up yesterday on CBS Sports Radio.
Apparently, La Canfora is talking to team executives and is working on a new report on upcoming firings across the NFL.
Where do the following teams stand on firing/hiring head coaches in a matter of days?
Here's how La Canfora laid it out:
Jets: Yes
Cleveland: Yes
Tampa Bay: Yes
Jacksonville: Yes
Arizona: Yes
Denver: Leaning yes
Carolina: Maybe
Baltimore: Maybe
Cincinnati: Maybe
Redskins: Doubtful
Atlanta: No
That's a lot potential vacancies, and don't forget Green Bay, which already gassed Mike McCarthy. Joe agrees with La Canfora on the Browns soon moving on from interim head coach Gregg Williams, despite his early success.
Yes, Joe assumes Dirk Koetter will be fired. He's 11-21 since the Bucs' five-game winning streak in 2016. That's an inescapable, two-season body of work.
Imagine if there are eight head coaching vacancies in 16 short days. Team Glazer is going to require a very clear plan of attack, one that should be in the crafting stages now.