Stunning Matt Breida Pass On Display
November 22nd, 2018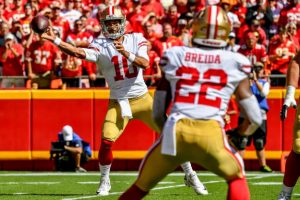 Joe almost lost the Thanksgiving vibe reading these two stories out of the San Francisco area.
Dang, why have the Bucs had such challenges evaluating running backs?
For those unaware, 49ers running back Matt Breida is on pace for 1,000 yards and is the NFL's 10th leading rusher. He went undrafted in 2017.
The young man went to high school in Brooksville and worked out for the Bucs before the draft and had talks with them before Tampa Bay lost interest, he told the East Bay Times this week.
Also, 49ers beat writer Matt Maiocco shared chatter from Dirk Koetter on a conference call this week. It turns out Koetter has an interesting history with Breida, who starred at Georgia Southern.
Koetter also is familiar with Breida, a native of Tampa. Koetter's daughter, Kendra, began her college volleyball career at Georgia Southern, where Koetter's friend, Todd Kleinlein, is the athletic director. Koetter and Kleinlein worked together at Arizona State, where Koetter was the head coach from 2001 to '06.

"And he had told me about Matt," Koetter said of Kleinlein. "I actually attended a game when he played, and was very impressed."

.. … Breida made the 49ers' 53-man roster as a rookie, and is thriving in his second season. Breida is tied for 10th in the NFL in rushing with Carolina's Christian McCaffrey with 632 yards rushing. Breida's 5.6-yard rushing average is best in the league among ballcarriers with 100 or more rushing attempts.

"There are so many running backs nowadays that are maybe undrafted and come into the league and when they get their opportunity, they make the most of it," Koetter said. "Matt has certainly done that. He's playing good football."
In the 2017 offseason, the Bucs passed on multiple stud running backs and drafted Snoop Dogg McPlaybook in the fifth round. They also paid Doug Martin a fortune coming off a 2016 season in which he averaged 2.9 yards per carry, and had no interest in working out Adrian Peterson. (Joe begged for a simple, in-person sniff.)
What it is with this franchise and running backs? It just seems like their evaluation process is subpar.