Kyle Shanahan Doesn't See The Same Gerald McCoy
November 22nd, 2018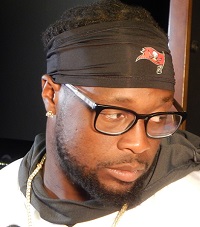 Father Time rarely misses a tackle.
Two years ago at the NFL Scouting Combine, Joe talked to then-Falcons offensive coordinator Kyle Shanahan about Gerald McCoy. Shanahan, now the 49ers head coach, raved about McCoy and explained in great detail how McCoy was a monster to game plan for.
Joe loved sharing the quotes because it stuffed a sock in the mouths of many McCoy bashers.
"You try to tire him out," said Shanahan in March of 2017. "When he is going, he is as hard — if he knows what is happening, it is tough for anyone in the league to block him. He comes off the ball too hard, too quick, too physical. So you have to tire him out. You have to wear him down. You have to keep him guessing.

"How are you going to block him? Are you going to cut him? Stay high? Go at him or from the backside? But if he knows [what the offense is trying to do], it is going to be a long day."
Impressive stuff it was from Shanahan, who talked about McCoy like he was an All-World player.
Yesterday at One Buc Palace, Joe again asked Shanahan about McCoy, via conference call. Joe simply reminded Shanahan that he's seen years of film on McCoy and asked Shanahan how McCoy might look different now that he's turned 30.
This time, the Niners head coach made it sound like McCoy isn't quite the player he used to be.
"I'm not going to say every single play he looks the same, which happens to everybody," Shanahan said. "But I promise you that he's still Gerald McCoy. You watch him on third down. You watch at certain times and you try to double team. When he gets off the snap, he gets off the snap still as quick as anyone in this league.

"He can very good at the run and the pass. I don't think he's having the production that he normally has. But he still is a gamechanger and one of the better D-lineman we'll play this year."
Joe's eager to see how McCoy finishes this season. He's played better the last two games and McCoy might be healthier at Thanksgiving than he has been in several seasons.
McCoy is under contract for three more seasons, but there's no more guaranteed money in his deal and he's due $13 million in 2019.