Ryan Fitzpatrick Will Start Against The Giants
November 12th, 2018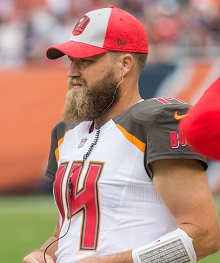 UPDATED 2:45 p.m. – Joe is in stunned disbelief.
Despite a four-game losing streak and playing poorly, Ryan Fitzpatrick is your starting quarterback on Sunday against the Giants.
"I just think he still gives us the best opportunity right now," Koetter said this afternoon at One Buc Palace.
What a mess. Shame on Koetter and shame on Team Glazer.
Jameis Winston is healthy and ready to play for a 3-6 team. Joe would understand if the Bucs deactivated Jameis (not agree) because they don't want to risk him getting seriously injured, which would force the team to pay him $21 million next year. But to keep Jameis active as the gameday backup and to force journeyman Fitzpatrick down the throats of Bucs fans is a waste.
Koetter and Team Glazer are playing scared. Playing Jameis is the correct play. The Bucs are making the wrong call.