Bucs Boot Kicker Chandler Catanzaro
November 12th, 2018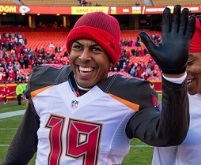 Kyle Brindza, Connor Barth, Patrick Murray, Nick Folk, Roberto Aguayo, Chandler Catanzaro, these are the former Bucs kickers who give Jason Licht and Bucs fans nightmares.
Yes, Catanzaro is now a former Buccaneer, per Jenna Laine of ESPN.
He had jumped into Aguayo territory after missing two field goals yesterday, 30 and 48 yards, in perfect kicking conditions against the Redskins. Catanzaro made just 11-of-15 kicks this season, and missed four extra points.
Dude was a one-man wrecking crew of Bucs fans' dreams. And he thieved a few million of Team Glazer loot. Not bad for nine games work and a rough preseason, too.
We now await kicker No. 7 of the Licht regime.