"Find A Love Of The Game"
November 12th, 2018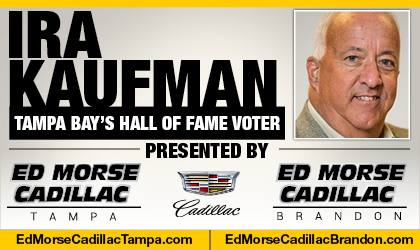 BY IRA KAUFMAN
Here we are again on Buccaneer Boulevard, talking about finishing out a lost season with pride.
We're all too familiar with this scenario as Buc fans head toward Thanksgiving with one eye on the cranberry sauce and another on the next NFL draft.
It's painful to look at the standings and even more painful to remember that this team was once the talk of the league.
When the Tampa Bay locker room opened Sunday, I risked a pulled hamstring by running after Brent Grimes. The veteran corner hadn't talked publicly for awhile and he was booking toward the exit door when I blocked his path.
He smiled and said fire away, so I asked Grimes how the Bucs should approach these final seven games.
"We're pros, you have to do your job," he said. "Nobody wants to lose all the time, you don't want it to be like that, but that's what it is. But even when things aren't going well and you're not feeling too great, you've got to do the job to the best of your ability. That's what we've got to fall back on. Find a love of the game and just play like that.

"That's what it's all about, trying to make it fun. That's the key to winning. I wish I could give you an answer. We had a lot of good things going at the start. I'm lost for words right now."
I'm not.
This season will go down in Buc lore as the year of missed opportunities. Whether Todd Monken or Dirk Koetter calls the plays, this offense is both prolific and baffling. And sloppy.
As for the defense, allow Mr. Grimes to interject.
"This is a takeaway drought, it's crazy," he said. "I've never really been a part of something like this — one interception in nine games. In years before, we were getting a lot of turnovers. There's just a lot of stuff that doesn't have any explanation."
You got that right, Brent.
Steep Fall; No Answers
Two months ago, the Bucs were sitting on top of the world. Now, they're crouching in the division basement.
"Bad luck, it always happens to us," said Mike Evans. "We're too good to be stopping in the red zone. I think about that (2-0 getaway) all the time. We had a fast start and then we slowed down."
What happened?
"I am shocked," said Demar Dotson. "This is the same team that beat the Saints and Philly. It's the same old stuff: we don't have a problem moving the ball on anybody until we reach the red zone. We're a better team than what we're putting out on the field, but at the end of the day, we're not getting it done."
Is there a chance this club could fold like the 2011 Bucs, who dropped their final 10 games after a 4-2 start?
"You never know what's deep down in a person," Dotson said. "There are guys that talk, but you can't look at the heart. We've got people that seem like they've got the want-to."
It doesn't seem like too much to ask well-paid professional players to give full effort.
"This is a tight group, we enjoy playing with each other, but this is a major test," Grimes said. "You've got to try to have fun. That's the only way you can play this game effectively."
DO NOT MISS IRA AND DERRICK BROOKS ON TAMPA TWO, THEIR TWICE-WEEKLY SHOW RIGHT HERE AND AT THE IDENTITY TAMPA BAY. IT'S THE BEST DAMN ALL-BUCS VIDEO AROUND!