Pro Bowl Voting Is Open
November 13th, 2018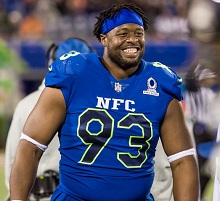 Yes! Joe loves the Pro Bowl. Why? It's football.
What fun it was last year with Kwon Alexander putting on a show with crushing hits in the rain that you're sort of not supposed to deliver in the exhibition.
Fan voting is weighed with coaches and players votes to determine what players get in.
Others get the honor as alternates, as Kwon did last year when LB Bobby Wagner skipped the game for the NFC.
So have any Buccaneers earned your vote this year? You can vote as often as you like at NFL.com, and today Joe voted for Jason Pierre-Paul, who is tied for fourth in the NFC in sacks with eight.
Mike Evans got Joe's vote, too. It hasn't been Evans' best season, but it still could be. He's done a lot of great things and ranks eighth in the NFL in total receiving yards.
Will Gerald McCoy make his seventh consecutive Pro Bowl? His NFC teammates named him Pro Bowl captain last year.
The Pro Bowl is Sunday, January 27, in Orlando.