"Play Jameis Winston. They Need To"
November 6th, 2018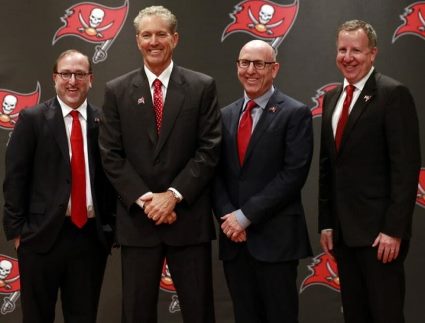 The Bucs are in a pickle and there is no easy way out.
You have a head coach that has lost faith in the franchise quarterback and is watching his team circle the drain. Like anyone else who is fighting the quicksand, Bucs Bit-O-Honey-snacking coach Dirk Koetter is playing the part of a gambling (panicking?) coach.
A coach who would try a fake punt on fourth down and nine from your own-26 is also the same kind of coach who would turn to a journeyman backup to try to squeeze out a couple of precious wins.
In other words, Koetter is constantly checking his cell phone looking for that dreaded text message to come to a meeting upstairs at One Buc Palace.
So with Koetter, to hell with the future and screw the franchise. Not my problem now. Will cross that bridge when it gets near. My future is now.
On the other hand, you have ownership, with a decision on their hands that could cost them $21 million. Who is the real America's Quarterback? The guy who went to a Pro Bowl his rookie year? The guy who damn near got the Bucs into the playoffs in his second year, giving the team only its second winning season in eight years? The guy who often gave the Bucs a lead in the fourth quarter of games only to watch this shameful defense vomit up the lead? Or the guy who after serving a three-game sentence from NFL strongman Roger Goodell looked more like Josh Freeman after he went mental?
Joe has seen this movie before.
In the late 1970s, Cardinals owner Bill Bidwill ordered his general manager to draft a quarterback out of Missouri named Steve Pisarkiewicz. He was a giant stiff. Had the body of Jim Kelly, the 'fro of Dan Marino, the mobility of a park bench and the head of a cocker spaniel. He. Was. Brutal.
Bidwill, as he was wont to do, always liked to make a splash with coaching hires but rarely got one right. Each hire was, well, unique including Don Coryell who came from the storied football powerhouse known as San Diego State.
Coryell flamed out and Bidwill replaced him with Bud Wilkinson, the ancient Oklahoma Sooners legend. He was sort of a button-down, soft-spoken, Brooks Brothers, corporate version of Barry Switzer. Stuck in the 1950s, Wilkinson actually tried to run the wishbone in the late 1970s. In the NFL.
Bidwill wanted Pisarkiewicz to play. You know, to see what he had and to see if he was the proverbial quarterback of the future. Wilkinson refused because Pisarkiewicz was godawful. Wilkinson didn't want Pisarkiewicz's L's hanging around his neck. The old coach preferred veteran Pro Bowler Jim Hart.
Bidwill fired Wilkinson for insubordination. Bidwill replaced the famed college coach with Hall of Fame safety Larry Wilson who had strict instructions to start Pisarkiewicz. The rotten quarterback, as it turned out, followed Wilkinson out the door at season's end.
(Trivia: Pisarkiewicz only won two games in his three-year NFL career. His first came against a rookie making his first start in 1979. Some guy named Joe Montana.)
Koetter and Jameis and the Bucs' current situation remind Joe exactly of Wilkinson and Pisarkiewicz and Bidwill in 1979.
Like Wilkinson then, Koetter is desperate for a win now. He is in full CYA mode and Joe can't blame him. The only difference here is Jameis showed significant promise whereas Pisarkiewicz was flat garbage. After a hitch in the CFL, Pisarkiewicz doomed his football career by flashing a college chick.
If the Bucs lose Sunday to fall to 3-6 and Koetter remains stubborn and plays Fitz, would Koetter be forcing the hand of Team Glazer to make a move midseason so that Jameis gets snaps? Remember, Team Glazer has never made a head coaching move midseason.
At any rate, the NFL Live crowd on BSPN is unanimous that the Bucs need to play Jameis now so the powers that be can decide if Jameis is worth salvaging or if the Bucs need to start a hunt for a quarterback for 2019 and beyond.