Dave Moore Points To Attitude & Discipline Troubles
November 6th, 2018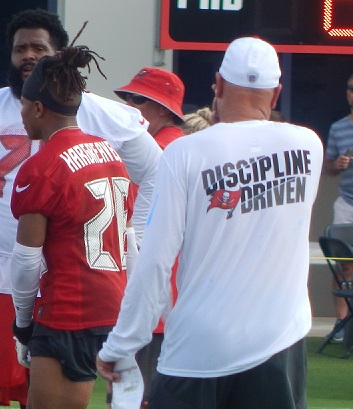 Fifteen NFL seasons and a Pro Bowl appearance give ex-Bucs tight end Dave Moore a lot of street cred.
He stays plugged into all things Bucs via his longtime gig as the Xs-and-Os-guru analyst on the Buccaneers Radio Network, where he's all business when it comes to football. No fluff there.
On WDAE-AM 620 this morning, Moore was asked about various Bucs issues as the team has lost 5-of-6 games and has put embarrassing stuff on film.
Moore pointed to a lack of discipline, highlighted by the overall inconsistency in the team's play.
"They gotta get some push on that offensive line," Moore said. "I mean they had a 2-and-1 in the third or fourth series of the game, and they went 2nd down and 3rd down and lost yards because the offensive line couldn't run for one yard. I mean that's that something you take pride in as an offense. It's an attitude thing. It's a coming off the football, sense of urgency.

"And they haven't been able to really do that at all this year. And the protection's been pretty solid for the most part, but it's got to be consistent and disciplined and on defense it's the same thing. When they play well, they can play with anybody. When they're off, it's not fun to watch."
Joe went back to the All-22 film to look at that early 2nd-and-1 play Moore referenced. Donovan Smith was blown up on the play by Kawann Short, who tackled Jacquizz Rodgers for a loss.
On the subsequent 3rd-and-2, Ryan Fitzpatrick was hurried and hit hard when Ryan Jensen was beaten by defensive tackle Vernon Butler.