Pierre-Paul On Bucs Fans: "I'd Be Pissed Off, Too"
November 29th, 2018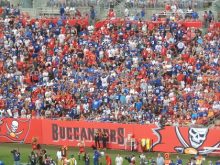 Talk to Jason Pierre-Paul and he'll be quick to tell you that he came to the party very late as far as being a football fan.
Football wasn't part of his life as a young kid.
He was a basketball guy and soccer was the sport of his Haitian-immigrant parents in South Florida.
Things changed when he switched to football late in high school.
But JPP has come to understand NFL fans as he nears the end of his ninth season as a professional.
Via the Buccaneers locker room video below, JPP talked yesterday about a thin crowd at the Stadium on Dale Mabry Highway last Sunday and how important he believes strong attendance is for the home team's on-field success.
JPP said he gets the light crowds in Tampa because of all the losing.
"You gotta understand the fans, too. You know, they tired of losing. If I look at it from a fan point of view, too, I'd be pissed off, too, if I think I could contribute to the game better than the players," JPP said.
There's more in the video below. His fan chatter starts at the 3:20 mark.
---
DERRICK BROOKS ANSWERS YOUR BUCS QUESTIONS! It's another can't-miss TAMPA TWO from The Identity Tampa Bay and JoeBucsFan.com, presented by Caldeco Air Conditioning & Heating.