"I Watched It Probably Like 11 Times"
November 29th, 2018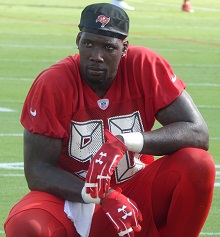 There's work ethic, and then there's the guy who literally blew his hand into pieces and then came roaring back with an unmatched hunger.
That's Bucs double-digit sack man Jason Pierre-Paul. (Damn, it felt good to type that!)
Yesterday at One Buc Palace, JPP talked about how he didn't like his game earlier this month in the 42-28 loss to Carolina. So he watched a little more game video than normal.
"I studied that film probably 11 times, you know, after that [first Carolina] game," JPP said. "I watched it probably like 11 times, even like at home. So I made a lot of mistakes in that game, but I'm looking to correct them."
Asked whether hitting the film 11 times is typical for him, JPP explained that its a little more than normal but not a ton when its the first game of the season against a division opponent.
"We gotta play them again," he said. "That's how it is in this game for me."
You gotta love it.
JPP also noted, without being asked, that the Saints likely are doing the same thing after the Bucs buried them on opening day, the only loss on New Orleans' record.