Ira Kaufman's 10 Takeaways From Bucs-Redskins
November 11th, 2018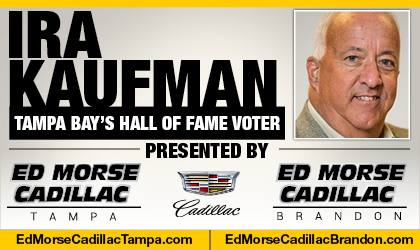 BY IRA KAUFMAN
Let's not kid ourselves — it's over.
The breathtaking promise of the opening two weeks has turned into harsh reality. This will be an 11th consecutive Buc season without a playoff berth, followed by a regime change.
This was the game that could have prompted a turnaround, facing a battered Redskin team at home. This was the game to stop the bleeding and trigger a winning streak against bottom feeders like the Giants and 49ers.
But, alas, it was not to be, and Buc fans are left sifting through the rubble of a season gone sour. On a day the defense showed marked improvement, Tampa Bay was undermined by four giveaways.
Such generous hosts.
At 3-6, it's all over but the pink slips. The first one should come this week as Chandler Catanzaro is escorted off the premises. The Redskins won ugly, but the standings show they are 6-3 and sit atop the NFC East. The Bucs lost even uglier as they remain in the NFC South basement.
Here's how Washington put Tampa Bay out of its misery on a beautiful fall day:
* For the first time this season, Dirk Koetter reassumed play-calling duties from Todd Monken. The best decision he made all day was asking for the ball after winning the coin toss, a move I've been pining for much of the season. And for the fourth time this year, the Bucs rolled up at least 500 yards. Somehow, someway, they are 1-3 in those games.
* Even at full strength, Washington's offense doesn't scare anyone. On Sunday, injuries forced the Redskins to use three new starters up front, yet the Bucs failed to capitalize. After Catanzaro's second missed field goal, the Redskins faced 3rd-and-9 from midfield. Given a perfect pocket, Alex Smith fired a 20-yard completion to Maurice Harris. A few minutes later, on 3rd-and-5, Smith bought extra time before finding Josh Doctson for a 6-yard score. In both cases, not a Buc in Smith's grill.
* The Glazers have had worse days as sports owners, but not many. Before the Bucs squandered their opportunity with a mistake-prone performance, Manchester United dropped a 3-1 decision against bitter rival Manchester City in the Premier League. Don't look now, but these guys may end up firing two head coaches.
* Guess who led all players with 10 tackles Sunday? That's right, ex-Buc middle linebacker Mason Foster.
* Jason Pierre-Paul, easily Tampa Bay's best defensive player this season, may have hit the motivational wall. He didn't make an impact at Carolina last week and JPP was credited with one tackle and zero QB hits against the Redskins. Perhaps he will regain his mojo when he gets to the familiar Meadowlands surroundings next week.
* There were plenty of culprits Sunday, but you can't overestimate the impact of Catanzaro's two missed field goals. That's six points off the scoreboard, but those errant kicks also take an emotional toll on the other 45 players. He should have been toast three weeks ago.  "I'm just not performing well enough for this team," Catanzaro said. Sad but true.
* The Bucs average 53 more yards per game than their opponents. The Redskins average 24 yards per game fewer than their opponents, yet these teams have inverse records. Why? Tampa Bay is minus-19 on the turnover table while Washington is plus-11. That's a difference of more than three possessions every week.
* There's no shortage of statistics to explain Tampa Bay's startling plunge into obscurity, but this one is as good as any. Opponents have ventured into the red zone 32 times and come away with 28 touchdowns. That's just sick.
* While the Redskins featured offensive balance, the Bucs ran only 24 times in 67 offensive snaps. That's a problem because this franchise is 3-18 in the past five seasons when throwing more than 40 passes.
* Ryan Fitzpatrick has given this team all he has, but it's time to return Jameis Winston under center and let him finish out the final 7 weeks. If Fitzpatrick starts against the Giants, that will be a strong indication the Bucs have turned the page on No. 3.
DO NOT MISS IRA AND DERRICK BROOKS ON TAMPA TWO, THEIR TWICE-WEEKLY SHOW RIGHT HERE AND AT THE IDENTITY TAMPA BAY. IT'S THE BEST DAMN ALL-BUCS VIDEO AROUND!