"He's Going To Be A Captain This Week"
November 7th, 2018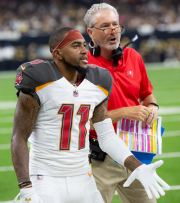 Dirk Koetter has DeSean Jackson's back in a big, big way.
Koetter was adamant today that he doesn't know whether or not Jackson asked for a trade from the Buccaneers a couple of weeks ago even though the head coach has talked directly with general manager Jason Licht, "I don't comment on other people's speculation."
And Jackson is a very good teammate, Koetter said. "He's going to be a captain this week."
Outside of the captains voted by players, Koetter selects an addition captain or two for specific games.
D-Jack is Koetter's guy, apparently even if he wanted to jump ship two weeks ago.