Waiting On Winston Call
November 7th, 2018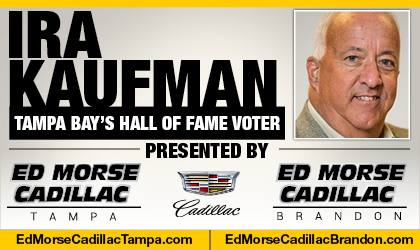 BY IRA KAUFMAN
It's the $21 million question at One Buc Place that must be answered.
Have the Glazers given up on Jameis Winston?
Sorry, Winston-bashers, but the answer is no. They're not eager to turn the page and start over with a rookie quarterback next fall.
This organization has invested a lot of resources in the No. 1 overall pick of the 2015 draft. The Bucs stuck with Winston through his suspension and gave him his starting job back, even though Ryan Fitzpatrick had played well beyond expectations through 14 quarters and two wins.
That doesn't mean ownership balked at Dirk Koetter's decision to bench Winston late in the third quarter in Cincinnati or to start Fitzpatrick at Carolina.
Koetter made the right call.
Yes, big decisions ultimately have to be made about No. 3, but the Glazers aren't convinced this season is toast.
Judgment Calls
That flickering hope overrides any desire to see whether Winston can finish the season strong. The simple truth: Fitzpatrick has outplayed Winston this year and he gives the Bucs a better chance to beat the Redskins on Sunday.
But if Tampa Bay loses, the equation likely flips. At 3-6, it would be time to look at the kids and return Winston under center for the remainder of the season.
That's what you do if you still believe in Winston. But if the Redskins win and Fitzpatrick is still starting the following week in the Meadowlands, the only logical interpretation would be the Bucs are done with Winston.
I don't think they are.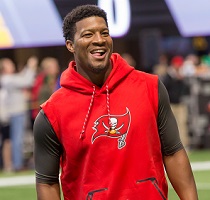 You don't turn your back on a guy you've labeled as a "franchise quarterback" unless you're sure, really sure, that he can't be rehabilitated.
I just don't think the Glazers are there. Not yet, anyway.
The owners will ultimately decide Winston's fate in Tampa. Not Jason Licht. Not Dirk Koetter. Not Mike Bajakian.
If the Bucs finish 6-10 and the Glazers intend to sign off on a $21 million deal for Winston in 2019, any potential new head coach would have to share their belief that Winston might still be the man.
Licht Advocate
That's why Bruce Arians, an unabashed Winston supporter, could generate interest as Koetter's replacement. He also has a history with Licht.
"Jason knows how to put a roster together," Arians told me in 2016. "We had a great relationship in Arizona. You don't always agree, but you get along and you make decisions for the team. Other teams might not have a player that high on the board — we don't care. They fit us. You draft for your coach and your team, no matter what anyone else's grades are, and that's why Jason will succeed in Tampa."
Koetter still has time to save his job. The next three opponents aren't particularly daunting before Carolina saunters into Raymond James Stadium, but time is running out.
The cruel irony of this situation is it would be professional suicide to bench Fitzpatrick if the Bucs suddenly embark on a three-game winning streak. In other words, a coach whose future was supposed to be linked to Winston now finds himself linked to Winston's backup.
What a world.
Now in his 40th year covering the NFL, Ira Kaufman is the most revered sports personality and writer in the Tampa Bay area. He scored a full-time seat at JoeBucsFan.com world headquarters in July of 2016. Tampa Bay's only Pro Football Hall of Fame voter busts out columns here every Monday, Wednesday and Friday, and his award winning podcasts fire Tuesdays and Thursdays. You can also hear Ira on SiriusXM Mad Dog Radio Wednesdays at 5 p.m. Also a TV star, Ira is part of the FOX-13 Tailgate Sunday NFL show at 10:30 a.m. He's also on BayNews 9, Wednesdays at 10:30 p.m. "The Sage" enjoys beet salads, Riesling, tennis, Bette Midler, Chiefs victories and needling Joe. …WATCH IRA AND DERRICK BROOKS on the new TAMPA TWO show from The Identity Tampa Bay and JoeBucsFan.