Donovan Smith Talks Mastery Of Level-Headed Play
November 23rd, 2018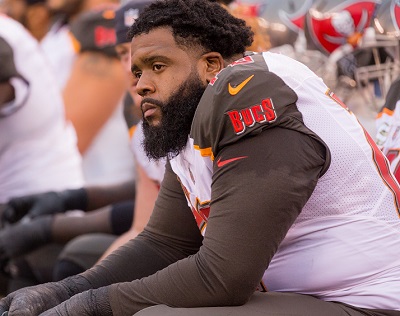 The Buccaneers' ironman left tackle says he gets "crap" for sometimes looking like he doesn't care as much as others.
That's in many ways by design, Donovan Smith explained this week on the Buccaneers Radio Network.
It was an intriguing take following being asked how he deals with the inevitable frustration of inconsistent play and team performance, such as scoring three points when the defense plays well and then scoring 35 points and losing the next week.
"Regardless of how many points you put up, or how pretty it may look on TV, there's always ups and downs in a game, whether that be bad technique, missed assignments, or stuff like that," Smith said.

Smith went on to say there's often "a messup" somewhere on an offensive line that the general public doesn't see and you can't as a player dwell on it in any way, he believes. Just stay level-headed.

"That's why, like, a lot of guys give me crap because I'm like nonchalant, zoned out, really don't show too much emotion type of deal," Smith said. "But you know, you just got to be able to maintain that, I guess you'd say 'sanity.' I got a temper; so my brothers and sisters will tell you. But you know I just found a way. I just sit there, just relax, never get too high, never get too low, and just keep rolling."
Smith has become such a polarizing player among Bucs fans. He is the left tackle blocking for the NFL team with the most passing yards. That's not a bizarre coincidence or freakish luck. He has all the pass-blocking talent he could want.
However, Smith, 25, has earned a reputation for not playing to the whistle on every snap. And it's obvious that some ex-players think his on-field demeanor is a red flag.
One thing that is certain, Smith will be making a ton of money next year — here or elsewhere — after his rookie contract expires in a matter of weeks.
---
No snoozing on TAMPA TWO. Buccaneers legend Derrick Brooks brings the video juice to his preview of the Bucs-49ers game with Ira Kaufman. Plenty of other Bucs chatter, too. Brooks is lit!
TAMPA TWO is a twice-weekly production of The Identity Tampa Bay with JoeBucsFan.com, presented by Caldeco Air Conditioning & Heating.