"DeSean Has The Green Light To Go In On Punt Returns Any Time"
November 9th, 2018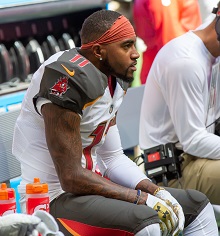 The mystery of why DeSean Jackson, the Buccaneers' best punt returner, hasn't returned a punt in three games is solved.
However, it has created a new mystery.
Head coach Dirk Koetter was asked this evening about the decision process when it comes to having Jackson return kicks and punts. His answer stunned Joe.
"DeSean has the green light to go in on punt returns any time," Koetter said on the Buccaneers Radio Network.
So let Joe get this straight. Jackson says publicly he wants to help the team however he can. He is healthy and explosive. And he's choosing not to return punts.
What ever happened to a coach saying something like, 'Get your ass in the game and make a play; you're the best we got. And we're paying you $10 million."
Back in August in Tennessee, Jackson told Joe he "100 percent" wants to return punts. What happened?
In overtime against the Browns, Adam Humphries lined up to receive a punt in overtime and lost six yards on the return. Jackson was on the bench and had yet to catch one ball in that game at the time of the punt. Again, he had yet to catch one ball in the game before that punt — in overtime.
On Sunday, Jackson will be a game captain, already named by Koetter himself. And meanwhile, nobody, including Jackson, is denying he asked to be traded last month.
Joe is speechless right now. What a cluster.