Some Love For Adam Humphries
November 6th, 2018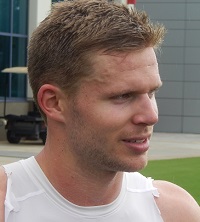 Beautiful flowers are growing among the thick weeds at One Buc Palace.
One is Adam Humphries.
The undrafted tryout player from Clemson is having his best NFL season since joining the Bucs in 2015.
And yeah, they cut him that season but later brought him back. Joe also enjoys when Humphries tells the story of arriving a rookie and people at One Buc thought he was a member of the training staff.
After his first career two-touchdown game Sunday in Charlotte, Humphries is now on pace for 70 receptions for 756 yards and four touchdowns this season. Those would all be single-season career highs.
If those numbers play out, Humphries would have the 16th-most career catches by a Buccaneer at the end of this season — 213, five behind mattress-in-the-yard Mike Williams (215).
Joe's very happy for Humphries. He's such an easy guy to root for. Rudy!
This is a contract year for Humphries and he's definitely one Buccaneer who doesn't have to worry about being employed in the NFL next season.