Cairo Santos Makes Jason Licht's Dreams Come True
November 25th, 2018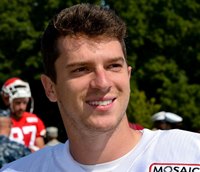 A week ago, Bucs general manager Jason Licht hopped on the Buccaneers Radio Network and told the world Tampa Bay now had the kicker they wanted last year.
Licht talked about how Cairo Santos came in for a couple of 2017 visits but wasn't quite healthy enough to sign. Now, Licht said, the Bucs had their man.
Upon hearing this, Joe was palpitating and screaming, "Then why didn't you sign Santos three weeks ago when he was on the street and Chandler Catanzaro was costing the Bucs games!"
Oh, well.
Anyway, after being perfect on five extra points last week against the Giants, Santos perfectly drilled his first two Buccaneers field-goal attempts, from 41 and 39 yards today against the 49ers.
Man, he got cheers from the rather flimsy home crowd at the Stadium on Dale Mabry Highway.
As Licht said last week about Santos, "It's not like we're just getting an unproven guy. … This guy was very good in Kansas City."
Santos was released by the Rams on Oct. 16 after fill-in duty there. If the Bucs signed him sooner, would they be 5-6 instead of 4-7?