Winning Jameis, Efficient Jameis
November 25th, 2018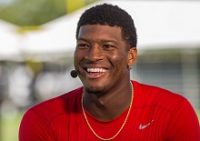 America's Quarterback, Jameis Winston, is now 2-2 as a starter for your Buccaneers this season.
And he certainly earned the "W" today.
No, Jameis won't go to the Pro Bowl after this showing against the 49ers, but he certainly executed what the Bucs asked of him. Protect the football. Stay consistent. Limit risk. Hit the open man.
Jameis finished the game 29 of 38 for 312 yards and 2 touchdowns. Jameis also ran well and smartly, 5 carries for 26 yards. Not a turnover to be found, which is almost hard to believe.
You can say, 'Yeah, it's the 49ers,' but San Francisco had the NFL's 10th-ranked defense before today.
Now Jameis is back in a rhythm as the starter. He'll certainly get the call against the Panthers next week in Tampa, and that will be the kind of test Team Glazer and Bucs fans want to see him respond to.