JPP Breaks The Sack Curse, Streak
November 25th, 2018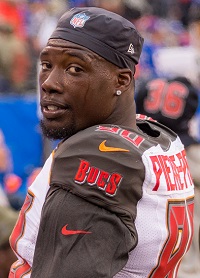 UPDATED: It happened.
It really freakin' happened.
Joe predicted Jason Pierre-Paul would finally end the misery this season, the Bucs' 12-season streak of no player with double-digit sacks. But when Joe called that on a preseason edition of the Ira Kaufman Podcast, Joe certainly wasn't thinking it would come with five games still to play.
With a few minutes remaining in the first half today, JPP got the job done with a sack of 49ers QB Nick Mullens. That gave JPP 10 1/2 sacks on the season.
Not since Simeon Rice had 14 in 2005, for the NFL's No. 1-ranked Buccaneers defense. Wow. It really happened.
The curse is over.
Cairo Santos even drilled two first-half field goals with ease.
Strangely beautiful day in Tampa, though JPP did leave the game in the third quarter with a knee injury but returned later.