Bucs Hate Your Fantasy Team
November 20th, 2018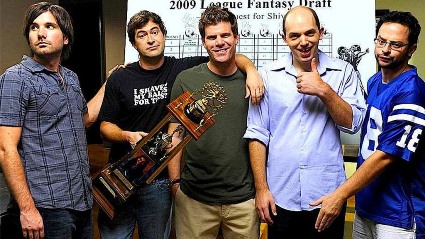 Joe just isn't a fantasy football guy, which rankles a lot of his readers.
Joe's idea of "fantasy" has absolutely nothing to do with football but everything to do with a buxom lass and a private Carribean island. Joe isn't against fantasy football whatsoever. It is just Joe cannot stand cheering for dudes that might be playing against the Bucs, or dudes playing for teams that could hurt the Bucs in any way.
But good guy Mike Tanier of Bleacher Report is a fantasy football kind of guy. And he is of the mind Bucs Bit-O-Honey-snacking, Ozark-watching coach Dirk Koetter is out to destroy everyone's fantasy each Sunday.
When Mike Evans recovered a Jameis Winston fumble in the end zone for a touchdown, it was the most 2018 Buccaneers event of the 2018 Buccaneers season. Let's check the bingo card:

Second-half quarterback change from Ryan Fitzpatrick to Winston? Check.
Sloppiness with the football? Check.
Ridiculous play that led to a near comeback in the second half? Check.
Meant nothing in the standings but caused havoc in fantasy leagues? Check.

The only thing that could have made it the perfect apotheosis of Buccaneers football would have been a missed extra point.
The good news that came from Sunday? It seems for the time being the nonsense at kicker has paused.
Other than that? We'll have to wait until January to figure out the future of the franchise.