"It's Alright To Be Ahead In Football Games"
November 20th, 2018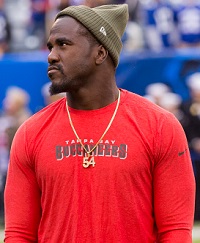 Unfortunately, Lavonte David has become an expert in losing.
Sunday, his bad knee let him play spectator against the Giants and Joe talked to him about a lot of things Bucs after the game.
Frustration is pulsating through David as it is many Buccaneers. He sees the Bucs' pattern/formula for losing and seems to think mental and physical effort for a full 60 minutes is lacking.
"It's alright to be ahead in football games, you know," David said. "I think us being down [in a game]  is what brings everybody out to start playing. That's the thing right now. It's been the story of our whole season. Dirk [Koetter] comes in and says it all the time, beatin' a dead horse, same thing every week.

"At the end of the day, man, we just got to be able to find a way to win but get out of those early situations. Four quarters of football, every down, every snap. That's our challenge."
Like a lot of Bucs, David sees what's going wrong but can't stop it.