Simeon Rice Sacked, Wronged By Voters
November 21st, 2018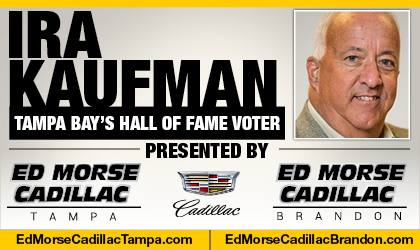 BY IRA KAUFMAN
Simeon Rice just got sacked. From the blind side.
I assumed Rice would once again make the list of semi-finalists for the Pro Football Hall of Fame.
Silly me.
When the group of 25 was announced on Tuesday, Rice had mysteriously vanished. John Lynch and Ronde Barber survived the cut, but Tampa Bay's menacing right end won't have an opportunity to hear his case heard in an Atlanta hotel meeting room on the day before the Super Bowl.
That's just wrong.
Richard Seymour is the only defensive lineman among the semi-finalists, and he deserves his judgment day. Seymour was a key component of those early New England Super Bowl teams that were primarily defense-driven.
Rice came off the edge his entire career, but Seymour played primarily inside. Seymour and Warren Sapp were voted the first-team All-Decade defensive tackles for the 2000s, yet Seymour's individual numbers (57 1-2 sacks, 4 forced fumbles) pale in comparison to Rice.
"There is no doubt Simeon Rice should be a Hall-of-Famer," says Derrick Brooks. "Anyone that puts up 122 sacks and has eight double-digit sack seasons during a 12-year career deserves to be in the conversation. And he did this while going against the best offensive linemen—the left tackles.

"Sim is one of the best pass rushers of his time, and he played a big part in making us the dominant defense that we were in the early 2000s. Go talk to some of the great Hall-of-Fame left tackles that had to go up against Sim on a regular basis, and all you'll hear is how hard he was to get in front of and slow down. For a left tackle out there on an island, he was their worst nightmare."
Stage Presence
Rice was a master of the blind-side strip and he finished with 28 forced fumbles. That's a big number.
Rice was at his best on the marquee stage.
In 7 postseason games, he registered 7 sacks, 4 forced fumbles and 2 fumble recoveries. Rice could have easily been named MVP of the 2003 Super Bowl, when he hounded Rich Gannon all day and dropped him twice.
"Simeon was always big in the big games from the Super Bowl to all the  playoff games," says Rod Marinelli. "He was the missing piece for our defense because he was a guy that could take the game over. Some of the biggest games he had were against the very best players.

"He helped drive us to our Super Bowl championship. To me, that is what the Hall of Fame is all about. It's not just the numbers. It's about the guys that can get you to a world championship and that's what Simeon did."
To put Rice's career in perspective, he played 5 more games than Charles Haley and finished with 21 1-2 more sacks. Haley is wearing a gold jacket and Rice is waiting out in the Canton lobby.
Never Replaced
Rice was only 32 when he suffered the only major injury of his career, a shoulder problem that required surgery. He never recovered and neither has the Buc defense, which hasn't been the same since Rice was cut in the summer of 2007.
No. 97 always spoke his mind, especially after the Bucs let him go.
"The next step is to let my body heal up and then I'm gonna come back like a maniac," he told me after his release. "I'm an ageless wonder, and I want to play for someone who will respect me. I'm the most consistent thing they ever had over there in Tampa. I played two games more than I had to with one arm. I'm not right yet, but I'll be right in three or four weeks. I know one thing — they got a lot of big shoes to fill right now in Tampa."
Heck of a player. Heck of a prophet, too.
---
A new TAMPA TWO is on!!
Hall of Famer Derrick Brooks and Ira Kaufman answer your Bucs questions with authority. TAMPA TWO is a production of The Identity Tampa Bay and JoeBucsFan.com. Presented by Caldeco Air Conditioning & Heating.