A Midterm Vote For Toughness
November 5th, 2018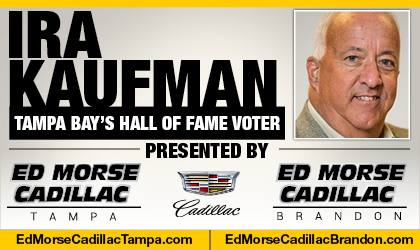 BY IRA KAUFMAN
At times, their finesse is astounding. At times, all those weapons coalesce into an offense that takes your breath away. At times, they look downright dangerous.
But most of the time, they're not nearly good enough, not nearly tough enough.
The Bucs have never had an offense this prolific. They throw the ball all over the field, no matter who lines up under center, and most defenses can't keep up.
That's the good news. Ready for the bad news? That's the only thing the 2018 Bucs do well — they spread you out and capitalize on mismatches.
That's it, that's the extent of the positives. Think about it. Does Tampa Bay get a passing grade anywhere else besides the passing game?
Absolutely not.
One-dimensional
The Bucs don't run the ball well, mostly because they don't block very well. The pass rush is a little better than last season, but that's mostly because it couldn't be any worse. Tackling, for the most part, stinks.
Pass coverage has been a joke. Kicking game? Not acceptable.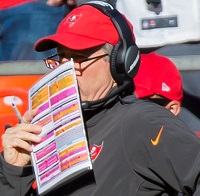 Coaching? Hey, Dirk Koetter says it all starts and ends with him.
Personnel? Once again, injuries have exposed a lack of depth.
So here the Bucs stand at the midpoint, dangling just above the abyss at 3-5 despite a sensational start that featured the biggest upset of the year, a shootout win in New Orleans.
The Saints haven't lost since. The Bucs haven't done much since.
Tampa Bay is somehow favored Sunday against Washington, but if the Bucs lose, I'd be in favor of bringing Jameis Winston back as the starter. I wouldn't be shocked if he replaces Ryan Fitzpatrick against the Redskins if Tampa Bay is struggling.
At 3-6, this Buc season would effectively be over. It would be time to play the kids and see what you have. It would be Alex Cappa time. It should also be Winston time because big decisions need to be made through the darkness on the edge of town.
Sunday's game is certainly winnable. These Redskins are a 5-3 mirage.
Ripe Pickin's
They were just manhandled 38-14 by Atlanta at home, surrendering 491 yards while the Falcons converted 10-of-13 on third down.
Here's the game plan: don't fall behind.
The Redskins have never trailed at any point in their five wins. They have never led at any point in their three losses.
Washington's offensive line is decimated by injuries, so there's no excuse for the Buc defense to be overwhelmed. But let's remember the Bucs are on pace to surrender the most points and touchdowns in NFL history.
So there's that.
All that finesse, all those targets … that's not enough. You've got to win the line of scrimmage and that's where Tampa Bay falls short.
Bill Walsh's 49ers featured a precise West Coast offense led by Joe Montana and Jerry Rice, but they also had Ronnie Lott and Charles Haley to knock you into Tuesday.
The Bucs didn't match Carolina's physicality Sunday, continuing a distressing pattern. The Panthers ran the ball well, the Bucs didn't. Fitzpatrick was under pressure, Cam Newton was over the moon.
I'm not calling the Bucs soft, but they're not a hard enough team to play against. In the long run, losing the trench battles will get you beat in this league. It's been that way for nearly a century and it's not going to change.
Tampa can be a tough town. It needs a tough football team.
Now in his 40th year covering the NFL, Ira Kaufman is the most revered sports personality and writer in the Tampa Bay area. He scored a full-time seat at JoeBucsFan.com world headquarters in July of 2016. Tampa Bay's only Pro Football Hall of Fame voter busts out columns here every Monday, Wednesday and Friday, and his award winning podcasts fire Tuesdays and Thursdays. You can also hear Ira on SiriusXM Mad Dog Radio Wednesdays at 5 p.m. Also a TV star, Ira is part of the FOX-13 Tailgate Sunday NFL show at 10:30 a.m. He's also on BayNews 9, Wednesdays at 10:30 p.m. "The Sage" enjoys beet salads, Riesling, tennis, Bette Midler, Chiefs victories and needling Joe. …WATCH IRA AND DERRICK BROOKS on the new TAMPA TWO show from The Identity Tampa Bay and JoeBucsFan.