Lock Down Monken
November 1st, 2018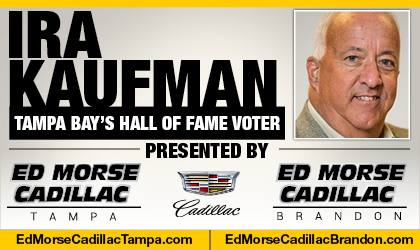 BY IRA KAUFMAN
If this season goes south in the next two months, there will be a stampede out the exit door at One Buc Place.
That's the way it is in the NFL, where regime change is always lurking just around the corner. A couple of bad years and you're probably packing your bags in search of another gig.
The Bucs can change that narrative, beginning Sunday in Charlotte.
They can register their second road win within the division and crawl back to .500 with half a season left, but the Panthers are a solid team that just outmuscled Baltimore.
Even if things go awry, the Glazers need to find a place for an assistant coach who is thriving in a new role. His name is Todd Robert Monken, and he is overseer of the most prolific offense in the entire league.
We're not exactly used to a dynamic attack around here. That's why this franchise has yet to award a drafted quarterback with a big-time second contract.
What the Bucs are doing on offense through seven games is rather extraordinary … and Monken is calling the shots.
He was born in 1966, 10 years before an 0-14 inaugural season that saw this franchise average 8.9 points per game. No matter what happens the rest of the way, Monken has built a powerful case for being retained. Tampa Bay had the same weapons in 2017, yet the passing game was pedestrian and explosive plays were rare.
Not anymore.
Move Over, Aaron Rodgers
Here's a good way to judge how special the Bucs have been through the air. They have the same exact number of pass attempts as Green Bay, with 16 more completions and an average of 68 more passing yards per game.
Do you need to be reminded who is throwing footballs for the Packers?
The Bucs have thrown for 19 touchdowns, compared to 15 for Green Bay.
Ah yes, interceptions. Green Bay has been picked off only twice, compared to 13 for Tampa Bay.
When the Bucs don't turn the ball over, they've been nearly unstoppable. They average a yard more per pass attempt than Drew Brees and the Saints.
Think about that.
Give the players a ton of credit for executing Monken's downfield passing scheme. Mike Evans has been a beast, O.J. Howard has shown significant improvement and DeSean Jackson averages 23 yards per catch.
Nothing Easy
Given Tampa Bay's six takeaways on the season, this offense earns everything it gets. Think of it this way: the Bucs are losing an average of two possessions per game on the basis of the turnover chart, yet Monken's offense still averages 29 points.
Stunning.
How did this happen?
It started in training camp, where the bar was raised for precision and focus. Just listen to Monken's comments after a practice in August.
"What we're doing out here is so much better than the crap we did last year," he said. "We earned that by the way we approached things. We haven't been doing that this year. I just know that we had a nice year two years ago and all of a sudden it's human nature: 'Hey here we go, Bucs, we've arrived.'

"Everyone drank the Kool-Aid, and now Hard Knocks is rolling in and we've added some pieces. All of a sudden, we think we're just going to take the field against grown men, the best in the world, and just think it's going to happen."
There's been some mistakes along the way.
That last snap in Atlanta wasn't Monken's shining moment. Instead of calling for a pass to the end zone from the 21-yard line with 7 seconds left and the Bucs trailing 34-29, Monken had Jameis Winston stepping forward on a fake draw play that triggered a series of laterals.
That's a 100-to-1 shot.
Still, this offense has been an overwhelming success. Now we'll see if the Bucs can minimize those self-inflicted wounds that cut so deep.
"Bad football loses before good football wins — I've said that forever," Monken says. "It's from Bob Knight. I know that's a basketball term and I stole it, but it's true. Bad football loses before good football wins."
In the span of two tumultuous months, Monken has raised his NFL profile while his football team sank to the bottom of the NFC South. That's no easy feat.
What else have the Bucs done exceedingly well this year, except throw the football? Defense? Please. Kicking game?
Don't be cruel.
If they have to win shootouts the rest of the way, so be it.
On Sunday, it will be Ryan Fitzpatrick's turn once again at the controls, executing Monken's game plan. There's a lot of football remaining, but it looks like a star may have been born on Dirk Koetter's coaching staff.
Now in his 40th year covering the NFL, Ira Kaufman is the most revered sports personality and writer in the Tampa Bay area. He scored a full-time seat at JoeBucsFan.com world headquarters in July of 2016. Tampa Bay's only Pro Football Hall of Fame voter busts out columns here every Monday, Wednesday and Friday, and his award winning podcasts fire Tuesdays and Thursdays. You can also hear Ira on SiriusXM Mad Dog Radio Wednesdays at 5 p.m. Also a TV star, Ira is part of the FOX-13 Tailgate Sunday NFL show at 10:30 a.m. He's also on BayNews 9, Wednesdays at 10:30 p.m. "The Sage" enjoys beet salads, Riesling, tennis, Bette Midler, Chiefs victories and needling Joe. …WATCH IRA AND DERRICK BROOKS on the new TAMPA TWO show from The Identity Tampa Bay and JoeBucsFan.